Calgary is about to get another historic district!  Can you guess where?  I'll bet not many of you guessed
Currie
, the new and improved Currie Barracks, which is an exciting inner-city community being Developed by Canada Lands Company (CLC) near Mount Royal University. 


Currie Barracks History 101
This land, west of Crowchild Trail at Richard Road, has a rich and diverse military history, beginning with its designation in 1911, when Calgary's population was 43,704 and the southwest edge of the city was Mount Royal.  In 1933, a new Canadian military base was announced and named after Sir Arthur William Currie, one of Canada's most decorated military figures.  With the unification of the Royal Canadian Navy, Canadian Army and Royal Canadian Air Force into the Canadian Forces in 1968, Calgary's Currie Barracks was officially renamed Canadian Forces Base Calgary (CFB Calgary), although it was still affectionately called Currie Barracks by the locals.  Prior to its decommissioning by the Government of Canada in 1995, CFB Calgary had been home to the Calgary Highlanders, the Seaforth Highlanders of Canada, Lord Strathcona's Horse (Royal Canadians), 1st Battalion, Princess Patricia's and Canadian Light Infantry at various times.  After the closure, Canada Lands Company (CLC), a self-financing federal Crown corporation and real estate development company, took on the task of transforming this site into a 21st century model mixed-use community with the creation of the CFB West Master Plan, which includes Currie Barracks,  Lincoln Park Permanent Married Quarters (now Garrison Green), Mount Royal College, ATCO and Westmount Business Park.


Hidden Gem
Most Calgarians knew little about Calgary's first gated community, unless we had some connection with the Canada's Armed Forces.  For the rest of us, it was that curious asphalt plaza with the cast iron fence thingy that we whizzed by along Crowchild Trail.  It wasn't until 2004 that Calgarians began to appreciate this hidden gem thanks in part to local businesses making their temporary home in various buildings on the site - Calgary Farmers' Market, Wild Rose Brew Pub and J. Webb Wine & Spirits, several movie and television production companies, Riddle Kurczaba Architects and several charter schools.  For the first time, Calgarians could freely roam the barracks and appreciate the history of the place, especially Parade Square surrounded by several distinctive wide low-rise, white stucco, cottage-style red shingled roof buildings.  It became a popular place to spend a sunny Sunday afternoon.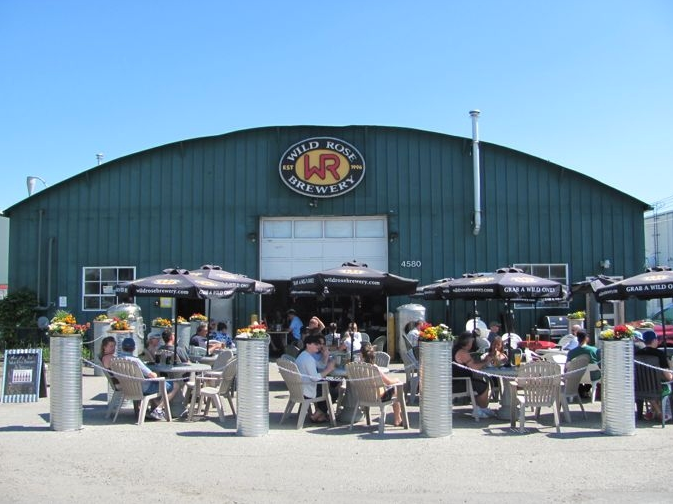 -Wildrose Brewery has been a fixture in the Currie Barracks AF26 building  since 1996

Preservation vs. Prosperity
Over the past 10 years, CLC has been strategically developing the land surrounding Currie Barracks in preparation for the ultimate mega-makeover project that will create a new 21st century urban village.  While Currie will be home to new buildings – condos, townhomes, offices, hotel, grocery store, shops, cafes and pubs – it will also include the preservation of all the provincially designated historical buildings, sites and landscaping.  Parade Square, the site of inspections, drills and training exercises; the heart of the daily activity of the barracks for several decades (and once the largest square in the British empire!) will be preserved for public gatherings and provide links to the many park spaces scattered throughout Currie.  Historical buildings surrounding the square and others located throughout the property will be converted into multiple modern uses (e.g. schools, offices and restaurants), adding character to this vibrant new community. 
Currie at a Glance
First LEED-ND Gold Neighbourhood District approved in Canada




Largest LEED-ND Gold Project in the world (at the time of approval in 2009)




10,000+ residents




3,000+ workers




Flanders Point a pedestrian-oriented retail/restaurant activity node   

Walkable community

Numerous public spaces





Last Word
From its designation in 1911, to its naming  in 1933 and until its decommissioning in 1995, Currie Barracks played a significant role in Canadian military history and has been a welcome addition to our Calgary community.  CLC has shown their respect for this history by developing a plan that not only preserves, but breathes new life into these historical buildings and public spaces.  Kudos to the CLC team for creating a unique space for Calgarians to live, work and play.
As always, I'm looking forward to adding value to your next Real Estate transaction.