Don't use cap rate as the sole factor when determining an investment's health.
While cap rates offer the opportunity to make quick, easy comparisons between two or more pieces of property, they're 
far
 from the only factors you should consider. Real estate investment can be quite tricky - seemingly straightforward investments can be subject to market forces and unforeseen events beyond the scope of a simple cap rate calculation. At the very least, you'll also want to consider the growth potential of your property's income as well as any likely changes in the value of the property itself.
For example, let's say that we buy a piece of property for $1,000,000 and we expect to make $100,000 per year from it - this gives us a cap rate of 10%. If the local housing market changes and the value of the property increases to $1,500,000, suddenly, we have a less-lucrative cap rate of 6.66%. In this case, it may be wise to sell the property and use the profits to make another investment.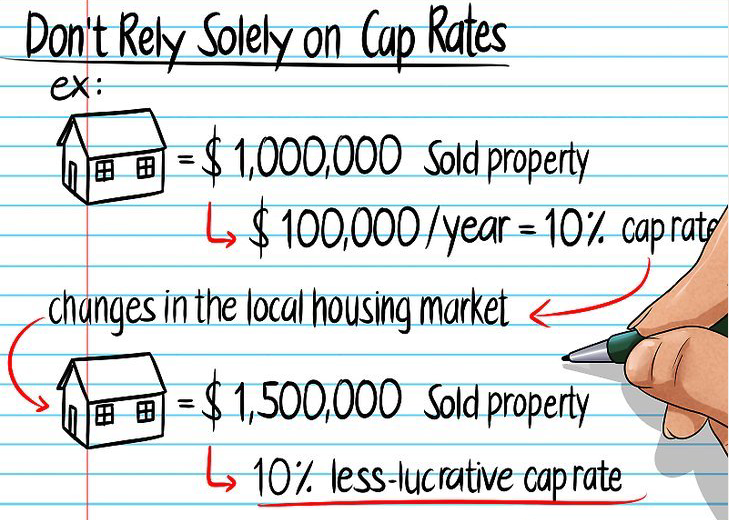 3
Use the cap rate to justify the income level of the investment property.
 If you know the cap rate of properties in the area of your investment property, you can use this information to determine how much net income your property will need to generate for the investment to be "worth it". To do this, simply multiply the property's asking price by the cap rate of similar properties in the area to find your "recommended" net income level. Note that this is essentially solving the equation (Net income/Asking price) = cap rate for "net income".
For example, if we bought a property for $400,000 in an area where most similar properties have about an 8% cap rate, we might find our "recommended" income level by multiplying 400,000 × .08 = $32,000. This represents the amount of net income the property would need to generate per year to get an 8% cap rate, so we would set the rental rates accordingly.
If your looking to add or sell a rental property from your portfolio please