Did you know Calgary's Lake Bonavista was Canada's first lake community? And that it has a storied past? Lake Bonavista was the idea of K.V. Keith owner of Kellwood land development. Formed in 1953, Kellwood became one of Calgary's largest homebuilders during the '50s, building homes in Glendale, Highwood, Wildwood, Kingsland, Haysboro and Fairview. Keith sold the company in 1960 to retire at age 43, however, retirement didn't suit a man with boundless energy and imagination. One year later he bought back controlling interest and started planning Lake Bonvista and Willow Park communities.
In the mid '60s Lake Bonvista site was flat treeless prairie with no natural amenities, but Keith envisioned it as Canada's first urban lake community. As part of the construct of the 52-acre man-made lake, the excavated earth was used to create at 65-foot (6 storey) waterfall adjacent to the lake to create a unique urban oaisis in Canada. Today, the lake provides a year-round recreational opportunities for all residents – fishing, swimming, boating, skating and tobogganing.   The community also added a second lake – Lake Bonaventure a 35-acre lake that is only accessible from the houses built directly on the lake itself.


Controversial Past
The story goes Keith Construction got tired of waiting for city permits so decided to go ahead with the excavation of the lake without permits. By the time the City found out what he was doing the excavation was too far along so they granted him the necessary permits.  Then they illegally filled the lake with water diverted from Fish Creek Park.
Despite all the controversy today Lake Bonvista is one of Calgary's most sought after communities and when people find a home they rarely leave.  It has become the prototype for all future lake communities in the Calgary Region. In 2014, plans for a gated community on the island in the middle of the man-made lake in Mahogany got national attention as is contravened the 2001 City Council policy banning gated communities.   The community got approved, but not with out some heated debate at Council.


Peaceful Present 
It surprises many Calgary newcomers to learn that our beautiful land-locked prairie city has so many peaceful lake communities.
Auburn Bay

Mahogany

Lake Chaparral

Lake Mindapore

Lake Sundance 

McKenzie Lake

Arbour Lake

Coral Spring

Lake Chestermere


Outside Calgary
Crystal Shore Lake, Okotoks

Lanark, Airdrie

Cochrane Lakes
Elbow Valley in Rockyview County has not one but three lakes, Fisherman's Lake, Elbow Valley Lake and Clearwater Lake for residents to enjoy.Indeed, Calgary's most desirable communities are those near water, be that our rivers or lakes.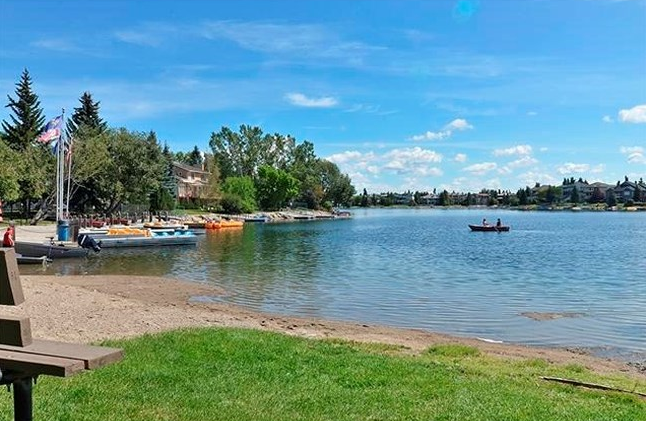 As always, I'm looking forward to chatting Real Estate with you.
Contact me here.